Costa Rica Nicaragua Surf Tour
Costa Rica – Nicaragua Combo Trip
Surf Costa Rica and Nicaragua
We are now offering a brand new adventure in Nicaragua! This multi-country surf tour provides the ultimate vacation for surfers and families a like. Starting in Costa Rica at our epic location in Playa Negra, Costa Rica and winds up in Playa Colorado, Nicaragua. After 5-7 days of epic conditions in Costa Rica, on to Nicaragua to enjoy surfing a variety of peaks and reef breaks. Experience offshore winds blowing open good barrels all day, everyday – a unique wind pattern found only in the southern region of Nicaragua.
The surf at Playa Colorado is world-class. Since the beach and surf is only accessible by those staying at Hacienda Iguana or by the few surfers who get dropped off by boats – the surf and beach remain unspoiled so you can always find a peak all to yourself. There's a good chance you'll get the best barrel of your life right in front of your house!
Surf Variety –
The beach at Playa Colorado has a variety of surf spots including reef and beach breaks that have something to offer surfers of all abilities. .There's always a great spot to learn how to surf on your own, or with a talented surf instructor.
The beach at Playa Colorado is great for the entire family, surfers and beach lovers alike. If a big swell is running and the surf in front of your house is more hollow and powerful than you care to ride, simply take a two minute walk up the beach to find more playful conditions. If you continue another five minutes up the beach, you'll come to a really fun reef break called Ponga Drops. Ponga Drops is a good peak that offers long lefts and rights suitable for all surfing levels.
Surf Consistency:
Playa Colorado, Nicaragua is one of the most consistent surf spots on the planet, offering good waves year round, but is biggest during the summer months (April – October) when south swells are strongest. The water and air temperatures average about 78 degrees (F) stay about the same year round.
Your Stay – Hacienda Iguana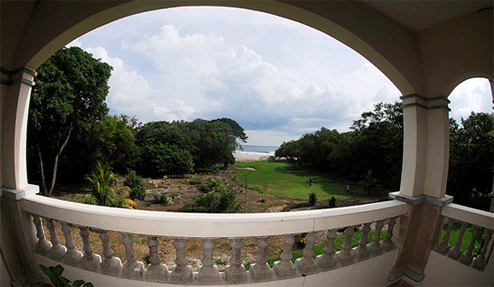 Hacienda Iguana offers comfortable and spacious luxury condominiums that sit near the river, set back roughly 100 meters from the beach at Playa Colorado. The ocean and river views from all of the two and three bedroom condos are beautiful, allowing for surf checks from the open decks. Condos also come with quality furnishings, large kitchens, high pressure hot water showers, two bathrooms, flat screen televisions, iPod jack sound systems, and sleep 6 to 7 people comfortably. Hacienda Iguana also holds the only maintained golf course in all of Nicaragua.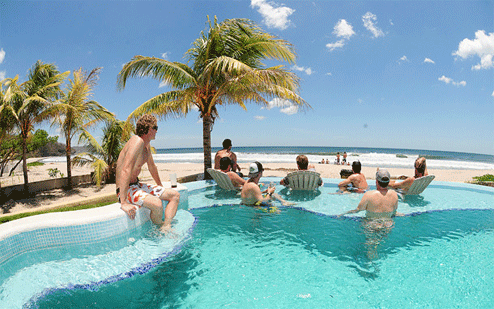 Your Food
Feast on as many delicious lobster tails, grilled fish, ceviche, fresh local fruit, savory deserts, and a variety of other local favorites served throughout the day by the talented cook included with your beach house or condo.
Airport Transportation
Fly into Liberia, Costa Rica and well pick you up at the airport. After 5-7 days of killer surf in Costa Rica, our Nicaragua ground team will pick you up at the house, bring you across the border (with no wait) and right to the front door of Hacienda Iguana in Playa Colorado, Nicaragua. Upon your departure, our Nicaragua ground team will transport you to the Managua Airport for your return flight.
Optional Activities:
Stand-up Paddle and Kayak Options:
The clean, clear, and warm river running onto the beach at Playa Colorado (forming good sandbars), is three kilometers long and provides a great place for stand-up paddling and kayaking. Up the river you'll see large iguanas, song birds, and curious monkeys swinging from the trees over head.
Wildlife Walks and Horseback Riding:
There's an easy walking trail that hugs the river, if you care to take an adventurous stroll off the beautiful beach.The path is great for a cool walk in the shade with friends and the kids. There's a small village up the trial with a nice local community that offers horseback riding along the jungle trails and beach.
There are many incredible natural and cultural sights to see if you feel like venturing outside of Hacienda Iguana. Checkout red-hot lava flows, hike volcano islands in the giant lake that are teeming with wildlife, visit historic towns for shopping and sight seeing, and so much more.
Boat Trips:
Boat trips are a great option and recommended to all surfers to satisfy a complete trip. A new canopy covered ponga boat with powerful 4 stroke engine will pick you up right in front of your house and take you to some incredible secret surf spots, to go deep-sea fishing, or to visit beautiful beaches around each lush point.The views from the boat trips are incredible because most of the land surrounding Playa Colorado is untouched and inaccessible by car.
SURF TRIP COSTA RICA – NICA
level:

all

group size:

maximum of 6

accomodation:

private house + condo

meals:

breakast lunch and dinner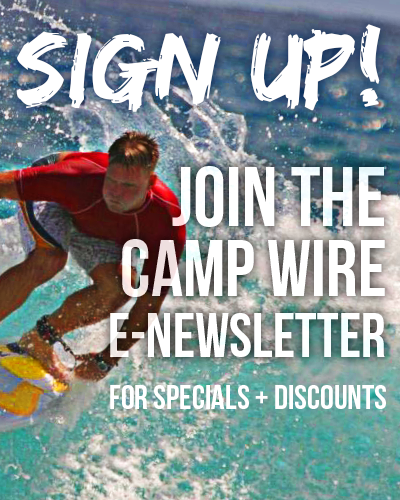 PHOTO GALLERY
VIDEO GALLERY
Testimonials
Wow! All Star really does it right. Honestly we had such a great time! Thanks for all your help and time. I hope to see you on another surfing trip very soon.

Mark California, USA
Thank you for taking such good care of Alex… he really enjoyed his time with you all at surf trip in Mexico. We will definitely be sending him again.

Anna New York, USA
I was overjoyed when I saw the house we were staying at in Sayulita. Every night I was lulled to sleep to the sound of waves outside. The house was very nice and the location was amazing. Our guides and instructors were awesome, and really provided a great time. Thanks again.

Michelle Colorado, USA