MOUNTAIN BIKE COLORADO TRAIL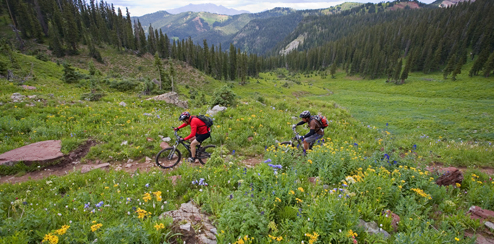 Colorado Trail USA:
The Colorado Trail – Singletrack Mountain Bike Tour
Please email us for dates and details – click here to email
General Tour Details:
4 Self-Guided Riding Days, 3 Nights Self-Supported triping
Spectacular high country singletrack in the San Juan Mountains near Durango, CO
This route is for advanced riders with excellent fitness and technical riding skills
Includes shuttle to the start at Molas Pass
Day Guide available upon request
trip relocation each day – trip gear rental from Ready trip included in cost
Overview:
Ride hard and relax away from it all…
This "tour" is a bit different from our typical trip offering. We created this trip for those who don't want a guide, don't want to be supported during the week and generally just want their own self-serve adventure with a bit of logistical assistance. Each day we relocate a very deluxe trip setup (provided by Ready trip) of a 10×20 popup tent, full kitchen, dry firewood, trip chairs, coolers of food and beverages (you purchase prior to trip) and all your personal gear like tents, bags and clothing. You can go as cheap or deluxe as you want on food, beverages and amenities!!
The final 74 miles of the Colorado Trail are arguably the finest of the entire trail length from Denver and certainly one of the premiere backcountry singletracks in our entire country. You'll tackle this route in 4 days and trip 3 nights under the Rocky Mountain skies. Riders will be treated to an alpine wonderland of wildflowers and rugged mountain peaks during the summer months of July and August. (pssst: our wildflower peak is usually 3rd week of July through first week of August!)
What's Included in My Trip?
Shuttle to Molas Pass to start
General trip gear from Ready trip (10'x20' popup tent, full kitchen, cooking/eating utensils, dry firewood, trip chairs, trip toilet)
trip/gear relocation each day including trash removal
Not Included
Overnight support – you're on your own!!
Alcoholic Beverages – we can haul and keep them cold though!
Food shopping – you must plan and shop for your own menu
Lodging and transportation before and after the trip
Weather Control – Mother Nature has a mind of her own
Bikes – we can rent you a full-suspension bike for the week
Guides – we can arrange a day guide for you each day
Itinerary:
Arrival Day: Riders should be prepared to meet us the night before to pickup coolers from Ready trip to do your grocery and beverage shopping for your 4 days. We're happy to help you get to the store and back to your lodging if you don't have a car during your stay…
Day One: Setting off at nearly 11,000 feet on the Colorado Trail, riders are treated to 360 degree panoramic views of the San Juan Mountains right from the word go. The first 1/3 of the day will consist of a little up, a little down and a lotta beauty…
Day Two: Continue on the Colorado Trail on rolling singletrack that hugs the perimeter of Hermosa Peak's rocky talus fields, ascends up and over Beach Peak and then gently cruises through a thick forest to the base of Blackhawk Pass…
Day Three: The day starts with a rolling traverse with long views back toward the Hermosa Creek drainage and even as far as the Weminuche Wilderness. Generally you'll be gaining altitude for the better half of our day as you start the toughest part of the whole route: Indian Trail Ridge…
Day Four: the downhill bonanza continues through thick, forested singletrack, past a gorgeous waterfall and finally onto the rocky singletrack cutting through the lush vegetation alongside Junction Creek. The top of the climb makes for a great snack location..
Please email us for dates and details – click here to email
Read more about The Colorado Trail
MOUNTAIN BIKING TRIPS
available as custom trip for 5 or more – click here to email

level:

upper-intermediate, advanced

ages:

all (call for under 18)

group size:

varies
PHOTO GALLERY
Testimonials
"After 9 years of guided mountain bike trips in North America, your Durango trip had the best trails!!!!"

David Sawyer, 2008
"'trip Ned' in Durango was stupendous. Lodging, food, choice of trails and individual guidance on bike set-up, techniques and gear were all excellent. Nate inspired me through some killer climbs. Matt's no slouch on the trails, and also performed some dutch oven wizardry in the kitchen. Big Mike's tour of Hermosa Creek drainage was epic. Thanks guys- I'm getting a gang together and picking a place to join up again in '09!"

Tom Kammerer, 2008
"I thoroughly enjoyed my Hermosa Creek Guided tour! My guide, Matt, was professional and personable: offering great cycling conversation, guidance, and food for thought. He took care of everything so all I had to do was just show up and ride! His experience and knowledge of the CO trails made me feel confident and the ride was truly a treasured experience. Most of all, I had the absolute best time and I loved every nanosecond of it! Thank you !"

Julie Urlaub, 2008
"The guys on my trip inspired confidence amongst our group every step of the way. Be it on the trail, shuttling to the trailhead, or arranging logistics in advance they kept things running smoothly and seemingly effortlessly. They accommodated us every step of the way and kept it fun and flexible. Of course, the best part was their ability to provide the epic mountain bike experience. We left Durango pleasantly worked over, dusty, and smiling ear-to-ear. Now if they'd only get on the right brand of bike…"

Travis Ott, Gary Fisher Bikes, 2008
"Super job you guys do, better than any other tour/group ride I have been on, either in the US or Europe. I especially appreciate the little things that make the stay more pleasant without the client having to ask for them. (the trail map and the gorp selection for instance, nice touches)."

Sam Joseph, 2008