MOUNTAIN BIKE DURANGO DAY TOURS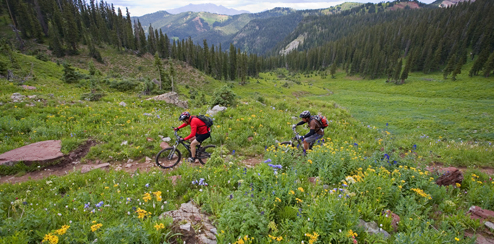 Please email us for dates and details – click here to email
Overview:
Durango Day Tours (Mountain Bike Colorado) –
Are you in town for just the day and don't want the hassle of route finding? Do you want to sneak away from your family vacation for a few days? Each summer, beginning Memorial Day weekend and concluding in early September we offer guided Day Tours in Durango Colorado USA.
Our Guided Day Tours are a great way for you to experience the Durango Coloarado backcountry safely and conveniently..on a trail that matches your skill level. We offer various pricing options to best suit your schedule, gear and budget.
The mountain biking in and around Durango is as good as it gets. World famous trails permeate the landscape: Hermosa Creek Trail, the Colorado Trail and the Telegraph trails just to name a few. During the spring, summer and fall Hermosa Tours can show you any of these rides and many more. You don't have to be an advanced rider – we can match your skill level to the right ride for you!.
Family Day Tours:
What better way to spend some of your family vacation time by enjoying some exciting Durango mountain biking? Hermosa Tours can cater a day of riding to your family's skill level on the numerous mountain bike trails and dirt roads in the San Juan Mountains. Tours last anywhere between 2 and 5 hours; depending on your family's ability and schedule.
What's Included:
Includes:
. Expert Area Guide
. Roundtrip transportation from downtown Durango
. Rental Bike
. A pack lunch
Durango Area Trails Shuttle
What is a shuttle? A shuttle is a self-guided adventure. It's for those folks who know where they want to go and do not require a guide. This is not a budget guided tour. What we mean by this is we're not going to plan which rides are best for you, where they are, how long you should plan for. That information is our guide business and we'd love to show you the trails with an expert guide. Otherwise, we recommend researching trails from this great resource:http://www.trails2000.org/site/trail_info.html
| | |
| --- | --- |
| TRAILHEAD | PRICE |
| UPPER HERMOSA/DURANGO MOUNTAIN RESORT | $25 |
| HOTEL DRAW | $30 |
| BOLAM PASS | $30 (MINIMUM 3 PEOPLE) |
| MOLAS PASS | $30 (MINIMUM 3 PEOPLE) |
| UPPER JUNCTION CREEK ROAD | $30 |
| KENNEBEC PASS | $30 (MINIMUM 3 PEOPLE) |
About the location:
Ride hard and relax..
The singletrack of the Durango Low Country tour will lead you to ask the question, "Does the riding ever end in Durango?" Well yes, it does. Eventually the snow flies, but until it does you just need to keep moving to lower altitudes to keep on riding. We've put together a collection of 5 great routes to get you on Durango's trails early in the summer as Mother Nature starts to emerge from her winter slumber and keep you on them when the aspens turn and transform the trail to a bed of golden coins.
Pricing
| | | |
| --- | --- | --- |
| | HALF DAY TOUR | FULL DAY TOUR |
| INDIVIDUAL | $125.00 | $215.00 |
| GROUP OF 2+ | $95.00 | $155.00 |
| GROUP OF 6+ | $75.00 | $105.00 |
Please call us to book these day trips toll free: 866.758.2267
Read more about Durango Colorado
Read more about the San Juan Mountains
MOUNTAIN BIKING TRIPS
available as custom trip for 5 or more – click here to email

level:

upper-intermediate, advanced

ages:

all (call for under 18)

group size:

varies
PHOTO GALLERY
Testimonials
"After 9 years of guided mountain bike trips in North America, your Durango trip had the best trails!!!!"

David Sawyer, 2008
"'trip Ned' in Durango was stupendous. Lodging, food, choice of trails and individual guidance on bike set-up, techniques and gear were all excellent. Nate inspired me through some killer climbs. Matt's no slouch on the trails, and also performed some dutch oven wizardry in the kitchen. Big Mike's tour of Hermosa Creek drainage was epic. Thanks guys- I'm getting a gang together and picking a place to join up again in '09!"

Tom Kammerer, 2008
"I thoroughly enjoyed my Hermosa Creek Guided tour! My guide, Matt, was professional and personable: offering great cycling conversation, guidance, and food for thought. He took care of everything so all I had to do was just show up and ride! His experience and knowledge of the CO trails made me feel confident and the ride was truly a treasured experience. Most of all, I had the absolute best time and I loved every nanosecond of it! Thank you !"

Julie Urlaub, 2008
"The guys on my trip inspired confidence amongst our group every step of the way. Be it on the trail, shuttling to the trailhead, or arranging logistics in advance they kept things running smoothly and seemingly effortlessly. They accommodated us every step of the way and kept it fun and flexible. Of course, the best part was their ability to provide the epic mountain bike experience. We left Durango pleasantly worked over, dusty, and smiling ear-to-ear. Now if they'd only get on the right brand of bike…"

Travis Ott, Gary Fisher Bikes, 2008
"Super job you guys do, better than any other tour/group ride I have been on, either in the US or Europe. I especially appreciate the little things that make the stay more pleasant without the client having to ask for them. (the trail map and the gorp selection for instance, nice touches)."

Sam Joseph, 2008