MOUNTAIN BIKE DURANGO HIGH COUNTRY SINGLE TRACK ITINERARY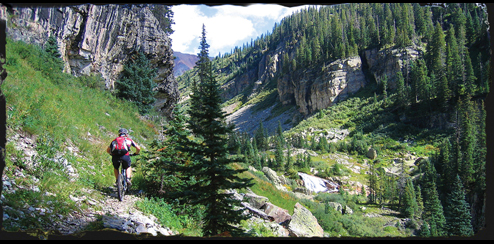 Itinerary:
Arrival day –
Our staff will greet you at your gate at the Durango/La Plata County Airport, relieve you of your luggage, and bring you into town where your room at the downtown hotel is waiting. Situated just a short walk from the historic downtown area, you are free to explore on your own as the staff make final preparations and take care of your fellow guests arriving throughout the day. Grab a sandwich and a beer on the patio at one of several local brewpubs, walk historic Main Street, or pick up some last minute supplies at our partner local bike shop. Although this is not an "official" ride day, we'll offer the option of a short afternoon ride on a favorite local loop near town. We'll spin right from the door of the hotel and ride just long enough to stretch your legs from the travel, and get you excited for the week ahead.
We'll check back in with you briefly in the evening to make sure that you are well situated, that your bike and all your gear are ready to roll, and that all your needs are being met.
Day 1 –
Our van will pick the group up at the downtown hotel at 7:00AM sharp. Today's ride starts at the lowest elevation of the week, giving guests a chance to get their "altitude legs." From the top of Hotel Draw we'll begin a pleasant traverse on the Colorado Trail. Stunning views of Blackhawk Pass to the north are seen early in the ride as are long views of the Needles Mountains and Weminuche Wilderness to the east. The trail tilts upward, climbing to the junction of Corral Draw, a lightly-trafficked trail featuring a 5 mile descent on a ribbon of singletrack into the Hermosa Creek drainage. After a quick ford of Hermosa Creek our guides will lead you south down the Hermosa Creek Trail. We'll finish off the day with this true Durango classic. Like every day, we'll be at the end of the trail waiting with refreshments and snacks. Once we're all ready to roll, we'll shuttle up to Cascade Village where you will find your luggage waiting for you in your condo, which will be your base trip for the week. Don't forget to order your packed lunch for the next day from our Trail Menu!! Ride length is about 23 miles.
Day 2-
Fuel up with a tasty breakfast prepared for you at the Village café. We'll be packed and rolling early for Molas Pass, the launching point of today's ride. Even the drive is gorgeous today as we cruise the San Juan Skyway!! Setting off at nearly 11,000 feet on the Colorado Trail, riders are treated to 360 degree panoramic views of the San Juan Mountains right from the word go. The first 1/3 of the day will consist of a little up, a little down and a lotta beauty. Vivid red soil set against vibrant green vegetation is the theme today. Guests can expect cascading mountain creeks, wide open meadows, thick forests, and during the right time of year, spectacular wildflower displays. The middle section of today's leg will challenge your fitness with a steady (but beautiful!!) climb to the day's high point at over 12,000 feet. After catching our breath we leave the Colorado Trail after 10 miles and head east on the Engineer Mountain Trail. As its name suggests, this trail sports views of Durango's signature peak, Engineer Mountain, from many different angles as we sweep around its flanks. At the end of the ride, your physical effort is rewarded with a long downhill run on fast singletrack that snakes through thick pine forests and aspen groves. Ride length is about 19 miles.
Day 3-
Today's route is frequently cited as a favorite by our guests. We begin with a crawl up a seldom-used Jeep road with more great views of the San Juan Mountains. Thankfully the Our custom off-road shuttle vans high-clearance vans are up to the challenge! Get your camera ready – the start of the ride is an especially scenic stretch of the Colorado Trail, ridden in the best direction. This morning, you'll face some of the most challenging technical sections of the entire week, interspersed with several rushing mountain creeks and waterfalls. Some of it has to be seen to be believed. After a switch-backing climb we break out into an alpine meadow where deer and elk sightings are a regular occurrence. We'll make our turn onto a "secret stash" singletrack traversing an unnamed mountain peak. The views from this section make a strong case as the best of the tour. What's next? How about a long singletrack descent next to a cascading creek in a thick pine forest? Consider it done!! Along this downhill plunge, we'll encounter a few technical rock sections that may force some of us off the bike for a few quick walks, but we promise it won't spoil the backcountry experience of this remote trail. Ride length is about 14 miles.
Day 4-
With three straight days of riding in our legs, even some of the most die-hard riders may be ready for a change of pace. Enter our patented "Rest Day Option". For those eager to keep feeding their singletrack addiction, don't worry, we have another amazing ride scoped out. But for those looking to slow things down, we've catered to your needs as well, with a very relaxing and fun option day agenda.
"Rest Day Option": Recharge by sleeping in late this morning. Enjoy a coffee and leisurely breakfast out on the patio as the crisp mountain air lifts the dew from the surrounding meadows. The rest day group will depart late-morning, bound for the banks of the Animas River, where we'll launch out on an exhilarating raft trip downriver toward Durango. Our staff will meet you and the bottom with a fresh change of clothes, and head into town for lunch. When we've had our fill of the local culture, we'll head back to home base. But not before a quick pit stop at the local hot springs, where you'll be treated to a soak in the naturally-occurring mineral pools and a 45-minute sports massage. Note: In addition to rafting, there are a variety of other rest day activity options which can be customized based on the group's specific interests.
Day Four Ride Option: By Day Four you're starting to understand the local Durangoan joke: "What's your favorite ride in the area?" Answer: "The one I just rode." We'll roll out from Celebration Lake near historic Graysill Mine, where we start with a short climb up the Colorado Trail featuring long views south of the Animas Valley and the La Plata Mountains. We continue on the Colorado Trail on rolling singletrack that hugs the perimeter of Hermosa Peak's rocky talus fields, ascends up and over Beach Peak and then gently cruises through a thick forest to the base of Blackhawk Pass. This is a choice spot to rest and grab a snack under towering peaks before starting the climb up to Blackhawk Pass. This climb will test your legs and lungs. Its steep pitches may result in a little hiking for some riders. You'll be at the top in no time, and the payoff is well worth it. The long descent off Blackhawk Pass is one of the best in the whole Durango area and serves as a nice reward for your hard work. Feel free to catch some air off the "whoops" near the end of the descent!! Our staff will be waiting to take you home, or, at your election, choose to meet your "rest day" compatriots down at the hot springs and share in the relaxation. Ride length is about 15 miles.
Day 5-
Kennebec Pass to Durango..a 5000 foot descent..a true Durango classic. This ride starts at tree line and immediately sends you on a thrill ride down narrow singletrack hugging the mountain side. After regrouping at the Champion Venture Road crossing, the downhill bonanza continues through thick, forested singletrack, past a gorgeous waterfall and finally onto the rocky singletrack cutting through the lush vegetation alongside Junction Creek. Wide-eyed and grinning, we'll regroup again at the Wall's Gulch Bridge and start a hefty climb away from Junction Creek..sorry, it can't ALL be downhill!! The top of the climb makes for a great snack location. Refueled, we'll take our time traversing up and down on narrow singletrack through a variety of aspen and pine forest. The beauty of the singletrack in this area is the stuff of which magazine photo spreads are made. Finally we'll reach what the locals call "High Point", named for its status as a turn around for riders climbing up from Durango. They climb, we descend. The downhill buzz continues for another 2500 feet of great Colorado Trail singletrack to the tour end at Junction Creek Trailhead. Ride length is about 25 miles.
Final evening-
After a great week of riding, we love to celebrate the end of the trip with a group dinner in town. We'll shuttle back into Durango where we'll spend this final night at the downtown hotel near historic downtown. Take a few hours to relax and clean up, then we'll meet at the hotel to stroll over to our closing dinner celebration. This is a great time for everyone to reflect on their experiences and tell war stories accumulated from the many great miles of singletrack. We thank our guests tonight with some goofy awards and some unique gift bags. Cheers!
If you are leaving the next day we will shuttle you to the airport for your flight home.
MOUNTAIN BIKING TRIPS
available as custom trip for 5 or more – click here to email

level:

upper-intermediate, advanced

ages:

all (call for under 18)

group size:

varies
PHOTO GALLERY
Testimonials
"After 9 years of guided mountain bike trips in North America, your Durango trip had the best trails!!!!"

David Sawyer, 2008
"'trip Ned' in Durango was stupendous. Lodging, food, choice of trails and individual guidance on bike set-up, techniques and gear were all excellent. Nate inspired me through some killer climbs. Matt's no slouch on the trails, and also performed some dutch oven wizardry in the kitchen. Big Mike's tour of Hermosa Creek drainage was epic. Thanks guys- I'm getting a gang together and picking a place to join up again in '09!"

Tom Kammerer, 2008
"I thoroughly enjoyed my Hermosa Creek Guided tour! My guide, Matt, was professional and personable: offering great cycling conversation, guidance, and food for thought. He took care of everything so all I had to do was just show up and ride! His experience and knowledge of the CO trails made me feel confident and the ride was truly a treasured experience. Most of all, I had the absolute best time and I loved every nanosecond of it! Thank you !"

Julie Urlaub, 2008
"The guys on my trip inspired confidence amongst our group every step of the way. Be it on the trail, shuttling to the trailhead, or arranging logistics in advance they kept things running smoothly and seemingly effortlessly. They accommodated us every step of the way and kept it fun and flexible. Of course, the best part was their ability to provide the epic mountain bike experience. We left Durango pleasantly worked over, dusty, and smiling ear-to-ear. Now if they'd only get on the right brand of bike…"

Travis Ott, Gary Fisher Bikes, 2008
"Super job you guys do, better than any other tour/group ride I have been on, either in the US or Europe. I especially appreciate the little things that make the stay more pleasant without the client having to ask for them. (the trail map and the gorp selection for instance, nice touches)."

Sam Joseph, 2008