MOUNTAIN BIKE DURANGO HIGH COUNTRY SINGLE TRACK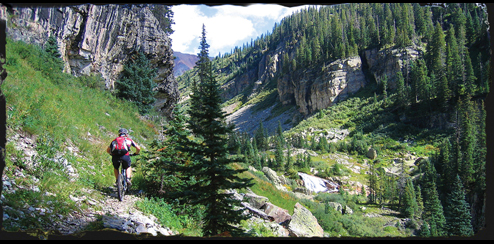 Durango Colorado USA:
The High Country Singletrack Mountain Bike Tour
General Tour Details:
5 riding days, 6 nights lodging
High Country Singletrack in the San Juan Mountains near Durango, CO
This tour is for high-intermediate to advanced riders with above average fitness and polished technical riding skills
Base trip: Cascade Village
What's Included? Click here for details…
Overview:
The singletrack and scenery of the Durango High Country tour are second to none. The San Juan Mountain Range has been referred to as "America's Alps"..a comparison with which we think you will agree. All-Star's expert guides will take you on some of the area's most classic routes, as well as a few special home-cooked secrets that surprise even Durango veterans.
Our base trip for this tour will be Silverpick Lodge. Tucked away in a quiet mountain setting, this village of private condo retreats features a flowing indoor/outdoor patio area complete with barbeques, a pool, and no fewer than three hot tubs. Each day after your ride we encourage you to grab a shower or soak in the hot tub before settling in next to the tripfire! While you relax under the clear Rocky Mountain skies, let our guides fire up the BBQ for the night's meal as well as clean and professionally tune your bike in anticipation of the next day's adventure.
We'll roll out early each morning to get ahead of the unpredictable weather that so often moves in during summer afternoons in the high mountains. This one of the primary reasons we elect not to trip along the trail for this tour. We usher you a world class ride and help you unwind in the cushy comfort of Silverpick Lodge. "Ride hard and relax."
Day 1
– Our van will pick the group up at your hotel at 7:00AM sharp. Today's ride starts in the Hermosa Creek drainage area behind Durango Mountain resort. From the top of Hotel Draw we'll begin a pleasant traverse on the Colorado Trail.
More…
Day 2
– Fuel up with a tasty breakfast prepared for you at the Village café. We'll be packed and rolling early for Molas Pass, the launching point of today's ride. Even the drive is gorgeous today as we cruise the San Juan Skyway!!
More…
Day 3
– Today's route is frequently cited as a favorite by our guests. We begin with a crawl up a seldom-used Jeep road with more great views of the San Juan Mountains. Thankfully the Our custom off-road shuttle vans high-clearance vans are up to the challenge!
More…
Day 4
– With three straight days of riding in our legs, even some of the most die-hard riders may be ready for a change of pace. Enter our patented "Rest Day Option". For those eager to keep feeding their singletrack addiction, don't worry, we have another amazing ride scoped out.
More…
Day 5
– Kennebec Pass to Durango..a 5000 foot descent..a true Durango classic. This ride starts at tree line and immediately sends you on a thrill ride down narrow singletrack hugging the mountain side. After regrouping at the Champion Venture Road crossing, the downhill bonanza continues through thick, forested singletrack, past a gorgeous waterfall and finally onto the rocky singletrack cutting through the lush vegetation alongside Junction Creek.
More…
Final evening
– After a great week of riding, we love to celebrate the end of the trip with a group dinner in town. We'll shuttle back into Durango where we'll spend this final night at the downtown hotel near historic downtown.
More…
MOUNTAIN BIKING TRIPS
available as custom trip for 5 or more – click here to email

level:

upper-intermediate, advanced

ages:

all (call for under 18)

group size:

varies
PHOTO GALLERY
Testimonials
"After 9 years of guided mountain bike trips in North America, your Durango trip had the best trails!!!!"

David Sawyer, 2008
"'trip Ned' in Durango was stupendous. Lodging, food, choice of trails and individual guidance on bike set-up, techniques and gear were all excellent. Nate inspired me through some killer climbs. Matt's no slouch on the trails, and also performed some dutch oven wizardry in the kitchen. Big Mike's tour of Hermosa Creek drainage was epic. Thanks guys- I'm getting a gang together and picking a place to join up again in '09!"

Tom Kammerer, 2008
"I thoroughly enjoyed my Hermosa Creek Guided tour! My guide, Matt, was professional and personable: offering great cycling conversation, guidance, and food for thought. He took care of everything so all I had to do was just show up and ride! His experience and knowledge of the CO trails made me feel confident and the ride was truly a treasured experience. Most of all, I had the absolute best time and I loved every nanosecond of it! Thank you !"

Julie Urlaub, 2008
"The guys on my trip inspired confidence amongst our group every step of the way. Be it on the trail, shuttling to the trailhead, or arranging logistics in advance they kept things running smoothly and seemingly effortlessly. They accommodated us every step of the way and kept it fun and flexible. Of course, the best part was their ability to provide the epic mountain bike experience. We left Durango pleasantly worked over, dusty, and smiling ear-to-ear. Now if they'd only get on the right brand of bike…"

Travis Ott, Gary Fisher Bikes, 2008
"Super job you guys do, better than any other tour/group ride I have been on, either in the US or Europe. I especially appreciate the little things that make the stay more pleasant without the client having to ask for them. (the trail map and the gorp selection for instance, nice touches)."

Sam Joseph, 2008