MOUNTAIN BIKE KETTLE CREST TRAIL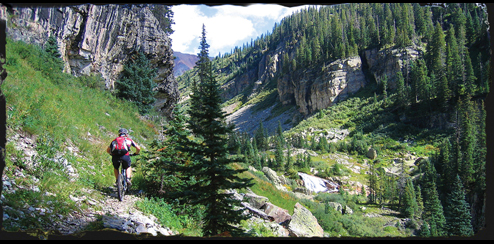 The Kettle Crest Washington Mountain Bike Tour

2014 dates: please email us for dates and details – click here to email
General Tour Details:
5 Riding Days, 4 nights triping
Pine Forest Singletrack in Northeast Washington
This tour is for intermediate to advanced riders with good fitness and
polished   singletrack riding skills
Base trip: Comfortable lakeside triping in a mountain setting
Overview:
Tucked away in the Northeast corner of Washington, not far from the Canadian Border, is a mountain biking Shangri-La known as the Kettle Crest in the Colville National Forest. The eastern half of Washington is usually associated with dry, arid terrain, but the Kettle Crest area is a bit of an exception. While it is certainly drier than it's Pacific Northwest neighbor, the area receives enough rain to produce a beautiful green landscape.
Highlighting this area is the Kettle Crest Trail itself, but we've assembled 5 days of riding that will give you a sampling of many other great trails in the area. The elevation here is mostly below 6000 feet, which is very manageable for most guests.
Day 1
– We'll meet everyone at the North Division Bicycle Shop in Spokane at 7:30am to load up and head out for the week. From Spokane we have a shuttle of a few hours to the Kettle Mountains and our first day's ride.
More…
Day 2
– Multiple climbs and multiple descents are the treat as this stretch of trail has everything a mountain biker could love. Beginning with a shuttle, this splendid dirt ribbon will still easily appease a rider who enjoys spinning up challenging climbs.
More…
Day 3
– First, a quick stopover of a short trail to some falls; followed by a drive up to the top of Thirteen Mile Mountain. Today's recovery ride will be minimal in climbing but still provide tremendous views, and quality singletrack. During your descent down a pleasant grade, you will be afforded spectacular views of the Sanpoil River Valley, while also sweeping through numerous drainages filled with old growth pine.
More…
Day 4
– We start with a steady climb up a shaded forest of pine and fir with a few peek-a-boo views along the way. This is a warm up as you climb to Sherman Pass and resume your climb on Kettle Crest North. This stretch of well-groomed superb trail meanders through forest, open fields, and past rocky outcrops.
More…
Day 5
– We start with another climb up Sherman Trail this morning. Only this time at the Pass you head south. Heading up a challenging trail with just a perfect amount of rock and dirt, you spin your way through immaculate forest stands of fir and pine. A split in the trail will take you clockwise around Sherman Peak.
More…
Final evening
– After a great week of riding, we love to celebrate the end of the trip with a group dinner in town. We'll shuttle back into town where we'll spend this final night at our lodge. Take a few hours to relax and clean up, then we'll meet at the hotel to head over to our closing dinner celebration.
More…
Call us to book these trips toll free: 866.758.2267
Read more about the Kettle Crest Trail
MOUNTAIN BIKING TRIPS
available as custom trip for 5 or more – click here to email

level:

upper-intermediate, advanced

ages:

all (call for under 18)

group size:

varies
PHOTO GALLERY
Testimonials
"After 9 years of guided mountain bike trips in North America, your Durango trip had the best trails!!!!"

David Sawyer, 2008
"'trip Ned' in Durango was stupendous. Lodging, food, choice of trails and individual guidance on bike set-up, techniques and gear were all excellent. Nate inspired me through some killer climbs. Matt's no slouch on the trails, and also performed some dutch oven wizardry in the kitchen. Big Mike's tour of Hermosa Creek drainage was epic. Thanks guys- I'm getting a gang together and picking a place to join up again in '09!"

Tom Kammerer, 2008
"I thoroughly enjoyed my Hermosa Creek Guided tour! My guide, Matt, was professional and personable: offering great cycling conversation, guidance, and food for thought. He took care of everything so all I had to do was just show up and ride! His experience and knowledge of the CO trails made me feel confident and the ride was truly a treasured experience. Most of all, I had the absolute best time and I loved every nanosecond of it! Thank you !"

Julie Urlaub, 2008
"The guys on my trip inspired confidence amongst our group every step of the way. Be it on the trail, shuttling to the trailhead, or arranging logistics in advance they kept things running smoothly and seemingly effortlessly. They accommodated us every step of the way and kept it fun and flexible. Of course, the best part was their ability to provide the epic mountain bike experience. We left Durango pleasantly worked over, dusty, and smiling ear-to-ear. Now if they'd only get on the right brand of bike…"

Travis Ott, Gary Fisher Bikes, 2008
"Super job you guys do, better than any other tour/group ride I have been on, either in the US or Europe. I especially appreciate the little things that make the stay more pleasant without the client having to ask for them. (the trail map and the gorp selection for instance, nice touches)."

Sam Joseph, 2008