New Zealand 5 Day Snow Explorer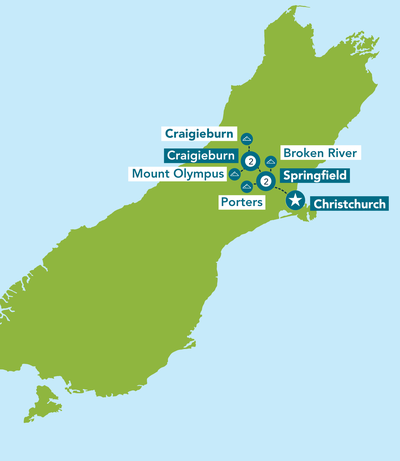 Accommodation: Springfield (2n), Craigieburn (2n).
Includes: Accommodation, 5 x Lift Passes, Mountain Transport, Expert Guide, Breakfasts, Two Dinners.
5 Day Snow Explorer
Escape the crowds of Queenstown and get a taste of New Zealand's best club fields on this five-day snow tour of the South Island.
The Snow Explorer really is off-piste heaven– leave the beaten track behind and sample four legendary mountains considered by locals as NZ's best-kept-secrets: Porters, Broken River, Mt Olympus/Temple Basin and Craigieburn. Whilst these names may not ring a bell now, we guarantee by the end of your trip they will be the only thing you'll want to talk about.
Starting and ending in Christchurch, this tour best suits intermediate to advanced skiers and snowboarders as you'll be using nutcrackers and rope tows to climb the slopes at most locations. But don't let this put you off– our expert guides are on hand to help, and most people adjust to using these tools after just a couple of runs.
Reserve your spot with just a $99 deposit! Read more about our 5 Day Snow Explorer tour.

We provide everything you need for the ultimate, stress-free time on the snow in New Zealand;
5 lift passes to 4 different mountains
Continental breakfasts every day
Two dinners
Tow protection gloves and harnesses
Add-Ons
Equipment hire (includes skis + poles or snowboard, and boots)
Ski clothing hire (includes jacket, pants and goggles)
Helmet hire
Optional Upgrades
Upgrade to a private room for $199 (available for the first two nights of the tour only). The cost is per room, so if there are two you, you can split the cost
Book extra nights of accommodation to stay with us the night before and after the tour
BOOK your 5 Day Snow Explorer now.
Christchurch to Springfield | Porters – We depart Christchurch at 6am en-route to Porters, best known for its relaxed and friendly atmosphere.
Springfield | Broken River – Wake up and get ready for a true adventure at Broken River.
Springfield to Craigieburn | Mt Olympus/Temple Basin – Today, depending on weather conditions, we'll head to either Mt Olympus or Temple Basin.
Craigieburn – For big mountain skiing, Craigieburn has a well-deserved cult following among Kiwis.
Craigieburn to Christchurch – One last snow day mastering the slopes of Craigieburn before blazing a trail back to Christchurch.
available as custom trip for 5 or more – click here to email

level:

intermediate, advanced

ages:

all (call for under 18)

group size:

varies
PHOTO GALLERY
Testimonials
instapinnarJohn & Ollie, our guide, waiting for me taking a million pictures and videos before dropping down the bowl.
#hakatours
#hakatoursnz

instapinnar
jamesfightsboredomDust on Crust is good for going fast!

jamesfightsboredom
adventurelizzieGot some turns in with these crazy cats. While we rested the sentinels waited 😂🐦
adventurelizzie#hakasnowtours #hakatours #snowtours #snowboarding #skiing #nzmustdo #nzbeautiful #aotearoa #treblecone #lifeofaguide #girlsthatshred #mountain #snow

adventurelizzie
hakasnowtoursThat feeling you get when you surf mountains surf 🏄🏼 🏂🤙
hakasnowtours#hakatours #snow #snowboarding #snowboard #ski #snow #powder #nzsnowtours #surf #nzmustdo #nz

hakasnowtours
swemzdLast day on slopes got me like #coronetpeak #hakatours #terrainpark #skijumping #jump #speeddemon #purenewzealand #ski #skiing🎿 #newzealand #holidays

swemzd