The Northwest Pacific region of Guanacaste is the driest area of Costa Rica with beautiful beaches that stretch for miles. The 'Gold Coast' is a prime area for sun and relaxation. Little rain and consistent warm temperatures offer visitors an enviable climate, breathtaking beaches and lovely Pacific sunsets. The land is still "virgin" and undisturbed. It is still customary to see real cowboys, wild horses, cattle traffic jams, and wild bull fights, an experience that makes Costa Rica unique. A cultural experience that is becoming rare-if not extinct.
When you're not surfing there is plenty to do — check out the beaches and explore the tidal pools. Nearby, discover all kinds of wildlife including Howler Monkeys, Iguanas, Toucans and much more. Chill at the local hotel and have a cold beer, play pool or grab your skate deck and hit the new Playa Negra skate park!
Call +1 (970) 236-6147 – or email us to secure your booking
Optional Activities*
Classes avilable daily and we partner with the local yoga studio in town. Stretch and stay flexible, avoid common injuries and surf more loosely. Discover the many benefits yoga has on all aspects of your life.
Surfed hard all day?  No worries, we'll arrange one of several certified masseuses to come to the house and work out the soreness that comes with paddling and getting tubed all day. You'll be limber and paddling circles around your friends next session!
Witches Rock, Ollies Point, Labyrinth and a couple other mysto spots are a couple hours up the coast located in Santa Rosa national park. We have the best captain and his two boats available when we make the call. There are now limited park passes available and our captain has most of them per-purchased.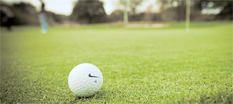 Hacienda Pinilla is a 7,300-yard, par 72 masterpiece golf course that offers picturesque scenery, immaculate conditions, and frequent glimpses of exotic wildlife. When there's down time from the surf or if you need a change of pace, the course is only minutes from the house.
A zip-line canopy tour is a must for all first-time visitors of Costa Rica. Fly weightlessly through the rainforest canopy, looking down upon birds, reptiles, monkeys and lush vegetation. We will only take you to tours certified by the Costa Rican Tourism Board. Most tours are between 2 and 3 hrs long and vary from $35 to $55.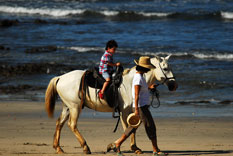 See Costa Rica the way it's been seen for centuries: on horseback. Many are surprised to learn that Costa Rica has a rich cowboy culture, dating back to the when the Spanish first arrived in the early to mid 16th century. Tours vary from 2 hrs to a full day and cost between $35 and $150 and cater to all abilities.
Snorkeling (equipment provided): Pristine, hidden coves are home to crystal clear water and you can expect to see eels, puffer fish, parrot fish, trigger fish, eels, rays and much more. During the ride, you may also see dolphins, manta-rays, devil-rays and whales.
We will charter a boat for you to fish, snorkel, surf, and do any combination of the three in a single trip. Maykol will take you to Flamingo Beach, where the boat departs. Costa Rica is renowned for having some of the world's best fishing. Expect to catch Mahi-Mahi, Wahoo, Yellow Fin Tuna, Red Snapper, Sailfish and many others.
There is Class II-III river-rafting on the Colorado River within an hour's drive of the house. The Colorado River is user-friendly with fun rapids and beautiful scenery. Watch for howler monkeys in the canopy above and iguanas and herons on the shoreline. Tours varies from 2 to 8 hrs and cost $35 to $115.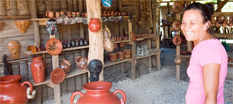 Guaitil is a small town that still practices some of the tradtions of the indigenous cultures of Costa Rica. The entire town is dedicated to the production of clay pottery and offers a slice of the mesoamerican indigenous culture.
*not included in surf package prices
photo credits: Tony Roberts
COSTA RICA SURF TOURS
please email us for dates and details – click here to email

level:

all

group size:

maximum of 6

accomodation:

private house

meals:

breakast lunch and dinner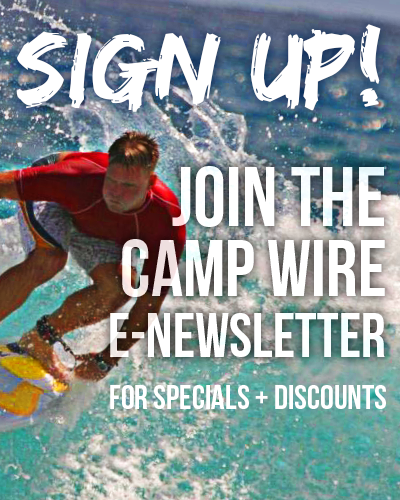 PHOTO GALLERY
VIDEO GALLERY
Testimonials
Wow! All Star really does it right. Honestly we had such a great time! Thanks for all your help and time. I hope to see you on another surfing trip very soon.

Mark California, USA
Thank you for taking such good care of Alex… he really enjoyed his time with you all at surf trip in Mexico. We will definitely be sending him again.

Anna New York, USA
I was overjoyed when I saw the house we were staying at in Sayulita. Every night I was lulled to sleep to the sound of waves outside. The house was very nice and the location was amazing. Our guides and instructors were awesome, and really provided a great time. Thanks again.

Michelle Colorado, USA